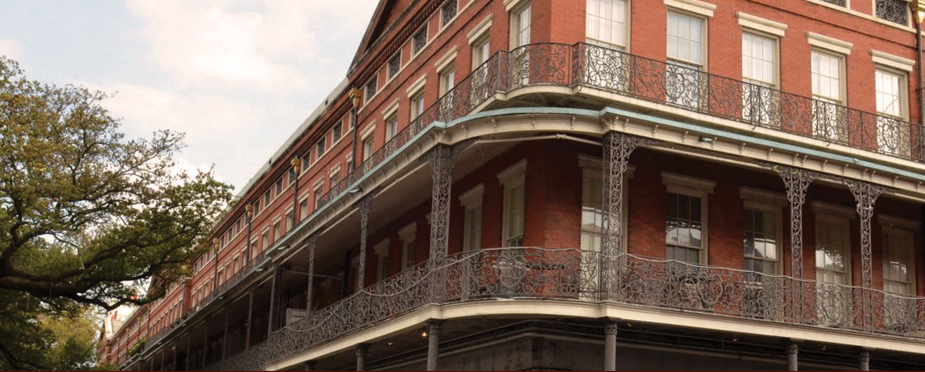 The Apartments at the Upper Pontalba
The Upper Pontalba Building: Living history. Living in style.
Located on Jackson Square in the French Quarter, steps away from St. Louis Cathedral, the Upper Pontalba building is one of the most historically and architecturally significant structures in New Orleans. The Upper and Lower Pontalba buildings flanking Jackson Square were declared a National Historic Landmark in 1974. (See HISTORY for more information about the history of the building and its namesake, Micaela Leonarda Antonia Almonester, Baroness Pontalba). Often referred to as the "oldest apartment building in the U.S.", the residential apartments offer an unparalleled living experience in New Orleans – one that combines the building's fascinating history and unique design with classic modern elegance.
Built in 1850, the four-story, red brick building is wrapped in wrought iron lace balconies overlooking Jackson Square. The Upper Pontalba sits on the threshold of important landmarks and the one-of-a-kind sights and sounds of the French Quarter. Artists, street performers and musicians scattered around Jackson Square's pedestrian mall, the whistling steam calliope on the S.S. Natchez riverboat, café au lait and beignets from Café du Monde – all are within reach of New Orleans' most unique apartment homes.
The original 16 townhouses in the Upper Pontalba Building were converted into 50 apartment homes in 1935. In 1995, an $8.1 million renovation to upgrade the building's mechanicals was completed; great care was taken to retain the integrity of the building's unique interior and exterior appearance. The dwellings are efficiency, 1-bedroom and 2-bedroom units. Each unique apartment showcases historic interior accents based on original building details, including sconces modeled after gas lantern medallions designed by the Baroness Pontalba herself and crown molding cast from original designs. The 160-year-old building seamlessly blends historic design with modern luxury features and amenities, including granite countertops, stainless steel appliances and marble bathrooms.